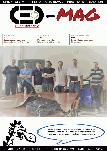 7/2017
Bonjour à tous,
Après une visu où les échanges ont prévalu sur les démonstrations, ce numéro du CEO-MAG est plus que jamais européen. En effet, 2 de nos membres ont apporté beaucoup de matière ce mois-ci : Steve avec une série de lettres qui sont historiquement intéressantes et notre nouveau membre Michael qui nous a écrit à plusieurs reprises et partage sa passion pour l'Oric. Je vous remercie tous les deux, cela donne un peu de nouveauté au mag et me motive à mettre en page les prochains mag. Et enfin, tout frais issu de Github, découvrez Cross Chasse de Fabrizio

Dear readers,
Welcome to Michael, our new german member. A lot of informations are coming from our European members Steve and Michael. Thanks to them.
Last Visu has been a good way to discover Fred's disk controller and Blake's 7. We share some new informations in this mag and there's a lot of mails we'll publish in the september issue.
Dear contributors, thanks a lot.